A press release by Parrot through realwire
####
Launched In 2016 In The US, Parrot Education Is Now Expanding Worldwide With Programs For Primary, Secondary, Higher Education, Field Researchers And Developers.
Parrot Strengthens Its Collaborations With Renowned EDU Players
Parrot Education has been created by Parrot to support academic and non-profit institutions to enable the use of drones in classrooms, labs and fields. Launched one year ago in the US, the program today works with more than 400 schools and 50 major universities across North America that use Parrot products as part of their curriculum. Now, the program will expand to make Parrot educational content available worldwide!
Key collaborations with major players
Parrot Education has developed strong collaborations with renowned companies so educators can teach students essential STEM skills, such as mathematics, science, art, physics and coding, and so kids can continue to learn coding at home.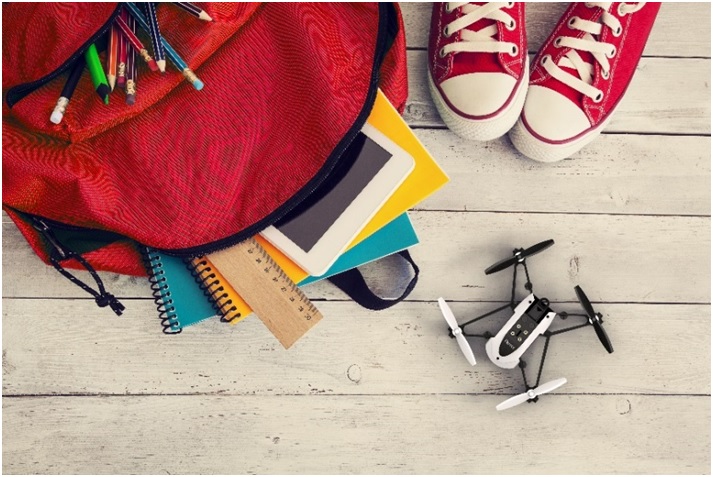 Apple
Parrot is featured in Swift Playgrounds, the free iPad app from Apple. With Parrot's new playground, which is available in six languages, kids (and adults) can program and control Parrot drones using real Swift code. (https://www.apple.com/swift/playgrounds/)
Tynker
Tynker strengthened its partnerships with Parrot by deploying its curriculum on tablets in six languages and in making a new offer available for any private individuals, so the apprenticeship can continue at home, after school. (https://www.tynker.com/learn-to-code/code-this-drone/)
Workbench
Workbench offers a revolutionary platform that connects educators from all over the world so they can share their activities within the educational community. The "Parrot Flight School" now makes it possible to write code and to control a drone directly from a web browser.
Mathworks
MathWorks has provided hardware support from MATLAB® and Simulink® for Parrot drones with the Embedded Coder® target for Parrot AR.Drone 2.0. MathWorks is also assisting Massachusetts Institute of Technology (MIT) professor Sertac Karaman, and other researchers, to use Parrot Minidrones to teach undergraduate and graduate courses on feedback control.
Parrot Education Resources
Resources developed by Parrot include multi-drone teaching bundles, educational discounts, software applications and curriculum partners for instructional resources.
Education pack
Schools and academic institutions can purchase education packs online in the US, Canada and Europe. Parrot is looking for education-oriented distributors to make the offer available everywhere.
Education discount
Any private individual, as they have a project linked to education or development, can benefit from special offers after submitting the details of their project online.
Partner program
Schools and universities can become a Parrot Education partner and pass on education pricing benefits to their students on all Parrot products. The first major partner is Embry-Riddle Aeronautical University, the world's largest, fully accredited university specialising in aviation and aerospace.
Parrot, the perfect partner for Education
Schools or universities that include robotics or drones in their curriculum often do not have the right hardware to work with, and researchers are always looking for new ways to test.
From primary schools to PhDs, drones offer an astonishing new perspective with countless applications. Parrot has a large portfolio of safe, reliable, robust, reparable, affordable and programmable drones, completed by a range of advanced sensors and software to meet these needs.
K-12
Parrot Education's Minidrones-coding curriculum is currently used in more than 400 schools in North America. Parrot has designed complete courses, like teaching code using blocks and using an advanced language like Swift.
"Parrot drones have created amazing STEM opportunities in my classroom taking our coding and engineering to new heights!"
Brad Lowell, 5th grade science and STEM teacher, Fall Creek Intermediate School in Fishers, Indiana.
"The integration of Parrot Minidrones within our STEM curriculum enables us to engage our students in hands-on problem solving experiences where they apply coding, engineering, and making skills in fun and creative ways."
Michael A. Lincoln, Information Technology/Media Design Educator/Speaker
"Parrot Minidrones have been instrumental throughout all of our drone stem summer camp programs. Our participants and instructors can easily fly and code the Minidrones as they attempt and accomplish valuable and exciting flight challenges. In the end the Parrot Minidrones are an excellent teaching tool and fully support our overall goal of STEM learning through the portal of drone technology."
Robert Elwood, Founder & CEO, Drobots Company
Higher education & Collegiate
High schools, community and technical colleges are becoming more interested in adopting drones, and those already using them are keen to expand their programs. 50 major American universities like Berkeley, MIT and Stanford work with Parrot Education.
"The Beaver Works Summer Institute was created at the MIT to give highly motivated STEM students the chance to tackle complex, hands-on engineering projects. This year we've added two more projects in which students can explore applications for autonomy and artificial intelligence. At the BWSI grand finale competitions August 6 at MIT, students in the autonomous UAV course will fly their Parrot quadrotors autonomously through an obstacle course."
Bob Shin, director of MIT Beaver Work Initiative
Field researchers
Drones make it possible to collect high-resolution geospatial data and this technology is transforming field research. Parrot Education supports faculty, postdocs, graduate students, technicians and undergraduate field assistants in their work.
Parrot partnered with the research group of Dr. Todd Dawson, faculty at the University of California, Berkeley, to promote innovation and the use of drone technology in measuring and monitoring forest ecosystems. The project took a unique approach in studying the architecture and hydraulics, or how water flows, through the massive sequoia trees. The goal being to better understand how individual sequoias have survived for centuries and how they will continue to survive in the future under a changing climate.
Developers
Parrot gives developers access to EDU discounts, a free SDK and real-time simulator for all their drones. Everything comes with full documentation and sample code in most common programming languages.
Focused on App development, Parrot SDK enables developers to have direct contact with Parrot engineers and a community of more than 4,000 users who are already registered.
For more information: edu.parrot.com