We are glad to publish the following informative guest article by Admir Tulic from dronepedia which may help beginner drone pilots to select a quality camera drone to get started with the hobby.
####
By Admir Tulic
Getting started with aerial photography has never been easier and there are drones to fit every budget. Many drones that are currently available feature 4k video recording, and 3-axis gimbal stabilization. When you look for a drone, you will notice a significant range of prices, and in general, you will get what you pay for.
Features
 Every drone is going to have different capabilities, and these specs are going to make a big difference when it comes to the price of your drone. Lets have a look at what is available, and you can decide what is important to you.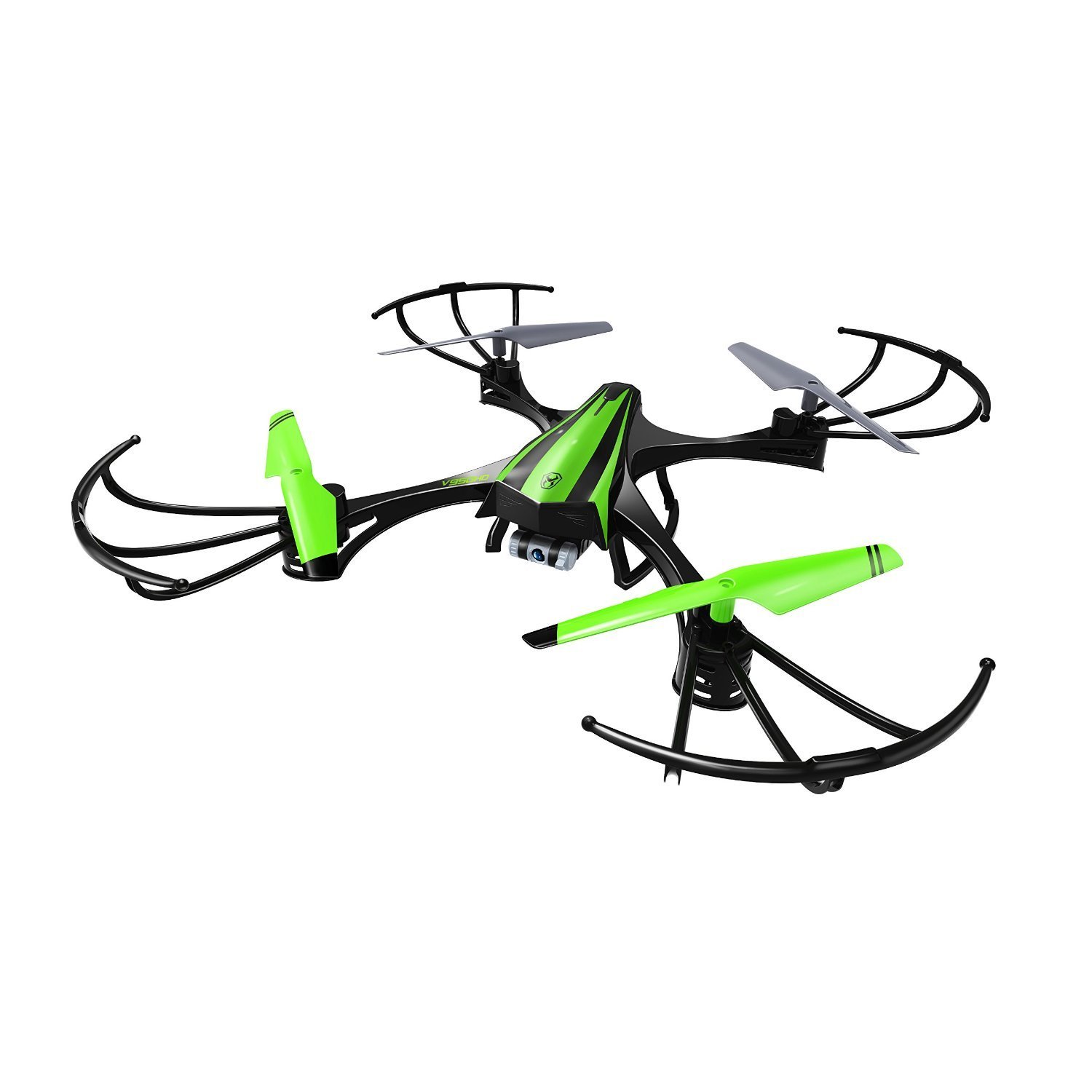 Battery Life
This is how long the battery in your drone will last in minutes, on average. The longer the battery life is, the better. Also, some drones will allow you to mount an extra battery, so if you need to extend the battery life, this is a good option.
Maximum Speed
 This is how fast your drone can fly, measured in miles per hour. Pretty simple, no? 
Signal Range
 If you want to be able to tell your drone how to fly, you have to maintain contact. This is what signal range refers to, and it is measured in feet, kilometers or miles.
Return To Home
 This feature gives your drone the ability to return to a previously designated GPS coordinate, or the last place it took off from. It is a really handy feature to have, and can make your piloting a lot easier. When you are done flying, just send your drone "home" with the push of a button.
Controller Type
 Some drones come with controllers that were built for them, and others rely on an app that you use with your smartphone or a tablet. Generally the more inexpensive models will require that you use an app, and this helps them keep costs down.
3-Axis Gimbal
 Many of the more advanced drones will have the ability to move the camera on a 3D pivot. The technical name for this device is a gimbal, and a single "gimbal" is capable of movement in one direction. SO if you want 3D movement, you need a 3-axis gimbal.
Not all gimbals will be of the same quality, and it is a good idea to read reviews from users before you buy a drone if perfect gimbal functioning is important for you. Like more things in life, the more you pay, the better the quality will be.
The 3D gimbal will also help to stabilize the camera, and again, some work better then others. 
Some Models To Look At
 There are a lot of choices when it comes to drones that will help you to capture dynamic video, and some of the most expensive drone models offer features like tracking and GPS pathing. If you are just getting into drones, there is no need to break the bank. You can always upgrade later, and with the speed that drone technology is advancing, you will probably get a lot of drone for your money in two years time.
Hubsan X4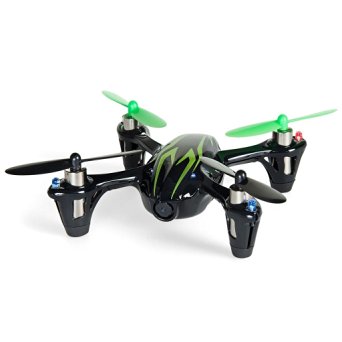 This tiny drone is really made more as a toy than anything else, but the price is irresistible and it does have an on-board camera. The first thing to know about the Hubsan X4 is that it is very small. If you are an adult, it will fit in the palm of your hand, and weighs a little bit more than a smartphone. Because of its small stature, it is very susceptible to wind and other atmospheric factors. If it is not nice outside, don't bother trying to get it off the ground.
 On the plus side, it is a great drone to practice your flying skills indoors. It is so small and light that there is little chance of it doing damage to anything, and you can really have a lot of fun flying it around the house. The video sensor is just 0.3MP, so don't have high hopes for the quality. For a $50 dollar micro drone, you are easily getting your monies worth and then some. 
240 line Video Recording, uses 4GB micro SD card
0.3 Megapixel Sensor
Still Photos Possible
Controlled via Included Controller with LCD screen
40 minute Flight Time
Maximum Range 320 Feet
USB charger
If you are considering this as a video drone, know that it records at 240 lines, which means that you will need to convert to once it has been shot. Overall this is an amazing little drone for the money, and will offer you a lot of functionality for a small price. One of the most interesting features is the streaming video to the controller, which displays a real-time view from the camera.
Syma X5C-1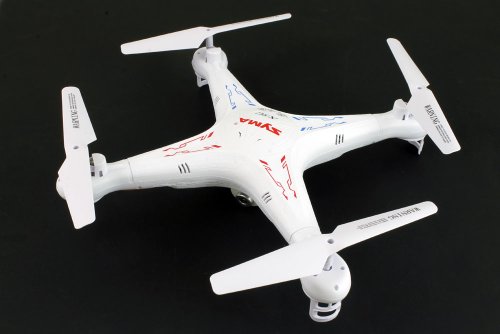 The X5C-1 is a great entry level drone that you can use to practice your skills, and even shoot some decent video with. It is famously rugged and comes with removable prop guards, which make it ideal for first time pilots. For a hair under $100 usd you get a simple drone that has everything you need to start practicing. While not huge it is large enough to stand up to some breeze and still be manageable, and it comes with a very well made hand-held controller.
One of the small problems that the design of this drone has is that the video camera is connected to the battery door. While not a design flaw, it is something that people report having to get used to, and would be worth looking into if you are considering this drone for purchase.
720p HD Video Recording, uses micro SD card
2 Megapixel Sensor
Still Photos Possible
Controlled via Included Controller
20 minute Flight Time / 5 minute Flight Time if using Camera
Maximum Range 160 Feet
Low / High Speed Selector Switch
Clearly at this price point there is no kind of motion dampening for the camera, but users report that the images are very good considering the price-point. One thing that is really nice about a drone like the X5C-1 is that it can function as a practice drone. Even advanced pilots need to keep up their skills, and there is no need to use an expensive drone to do it. Down the life if you decide to upgrade, the X5C-1 will still be useful to you as a warm-up drone.
Syma X8V Venture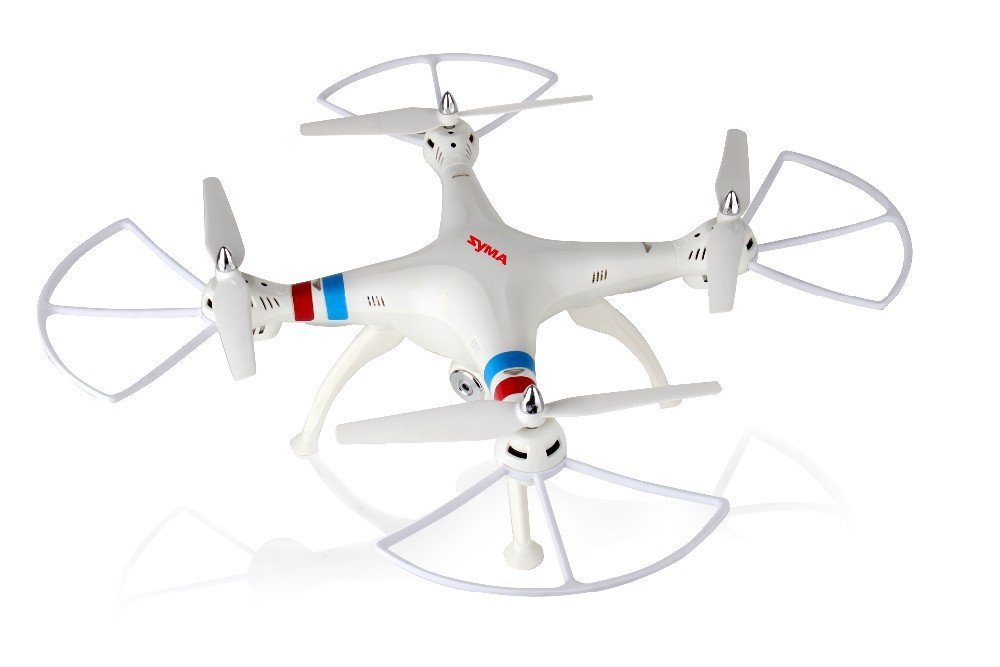 This drone looks a lot like a much more expensive model made by DJI, and is the largest offering from Syma. It is inexpensive and has everything you need to start piloting drones. It is as large as a more expensive drone, so if you want to get used to the feel of piloting a bigger drone and don't want to risk the money, this model makes a lot of sense.
 It does have a few interesting features, including "headless" mode, which allows you to move the drone in any direction you want regardless of where the front of the drone is facing. There is no GPS or return to home feature, but for a drone in the $100 dollar range it is very capable.
720p HD Video Recording, uses micro SD card
2 Megapixel Sensor
Still Photos Possible
Manual Tilt Gimbal For Camera
Controlled via Included Controller
10 minute Flight Time
Maximum Range 160 Feet
Low / High Speed Selector Switc
This is a great starter drone for anyone who wants to practice flying a larger bodied drone and doesn't want to risk much money. The camera would also be very useful for simple tasks like checking crops or looking at out of the way places. The X8V is a great stating point for anyone who wants to learn how to pilot a drone, and it is easily affordable to most people.
Sky Viper Video Drone
This is nice budget offering, and is shares many of the features with the rest of the drones on the list. For example, the controller does not have any sort of screen to stream video, and it has a one touch barrel roll button. For less than $100 you can get a drone that will shoot 20 minutes of panoramic video in 720p HD resolution which is not too shabby.
720p Video Recording, includes 4GB micro SD card, up to 32GB can be used
Still Photos Possible
Controlled via Included Controller
25 minute Flight Time
Maximum Range 200 Feet
One Touch Barrel Roll
So just keep in mind that is is not a competitor in any sense of the word for the rest of the drones on the list. The Sky Viper is really aimed young pilots, or people who want to play with a drone on the weekend. On the upside, this drone is seriously durable and will take a lot of abuse and keep on flying.
Parrot Bebop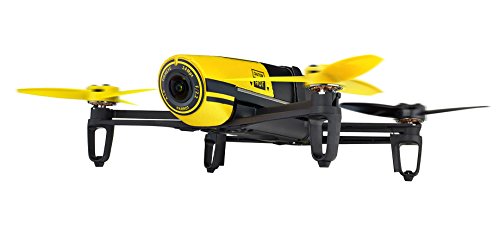 This is a great video drone for those of you that want to get into drone video capture and don't mind spending a little bit more on a starter drone. Compared to the rest of the drones on the list the Bebop is a little bit more advanced, and a lot more expensive.
Those extra features include a much higher resolution camera and longer flight time, as well as a GPS enabled return to point of last take off feature.
14 Megapixel Sensor
180 degree Fisheye Lens (with rectilinear correction)
1080p On-board Video Recording 8GB storage
Streaming Video to Smartphone
Controlled via app on Smartphone
25 Minute Flight Time
37 mph Top Speed
Maximum Range 984 feet
Return to Home (place of last take-off)
For around $500 this drone offers you a lot of value for your money, but it is lacking a few things that you will find on more expensive models. You also have own an apple or android smartphone, but most people have one these days.
One of the really cool things that this drone does is take the fisheye image that the camera creates and by using an algorithm in the processor, makes the image rectilinear, or normal looking. The reviews it gets are mixed, and don't buy this drone if you are expecting top of the line performance.
Growing All The Time
 There are a variety of video drones available, and you are sure to find something that fits your needs and budget. The technology is improving all the time, but don't wait to start learning. As the drones improve, so will you.
Don't be afraid to do a lot of reading, and check out resources online before you buy. If you have a good idea of what you are looking to do with your drone it is really going to help you make up your mind, and not be disappointed with what you decide on.
Admir is a pharmacist by profession and hobby dronist by passion. He runs a review/news website on drones – https://dronepedia.xyz and 2 big Instagram community pages. You can find him on Twitter  @derAdmir.