I am glad to share the following guest article by Julio Ventura from Drones World that focuses on 5 quite affordable consumer drone models. Fun flying everyone!
####
By Julio Ventura
Hello fellow drone lovers! Today we bring five of the best low-cost drones currently available in the market. We have compiled a list of five drones with above average specifications and features (regarding its price range). If you are looking for a good quality drone at an affordable price, you will surely find it on this list. These are some of the best and affordable drones for learning and practicing, and the all five are a good value for your money. Without further due let's move on to our Top 5 Low-Cost Drones list!
5- FY326 Q7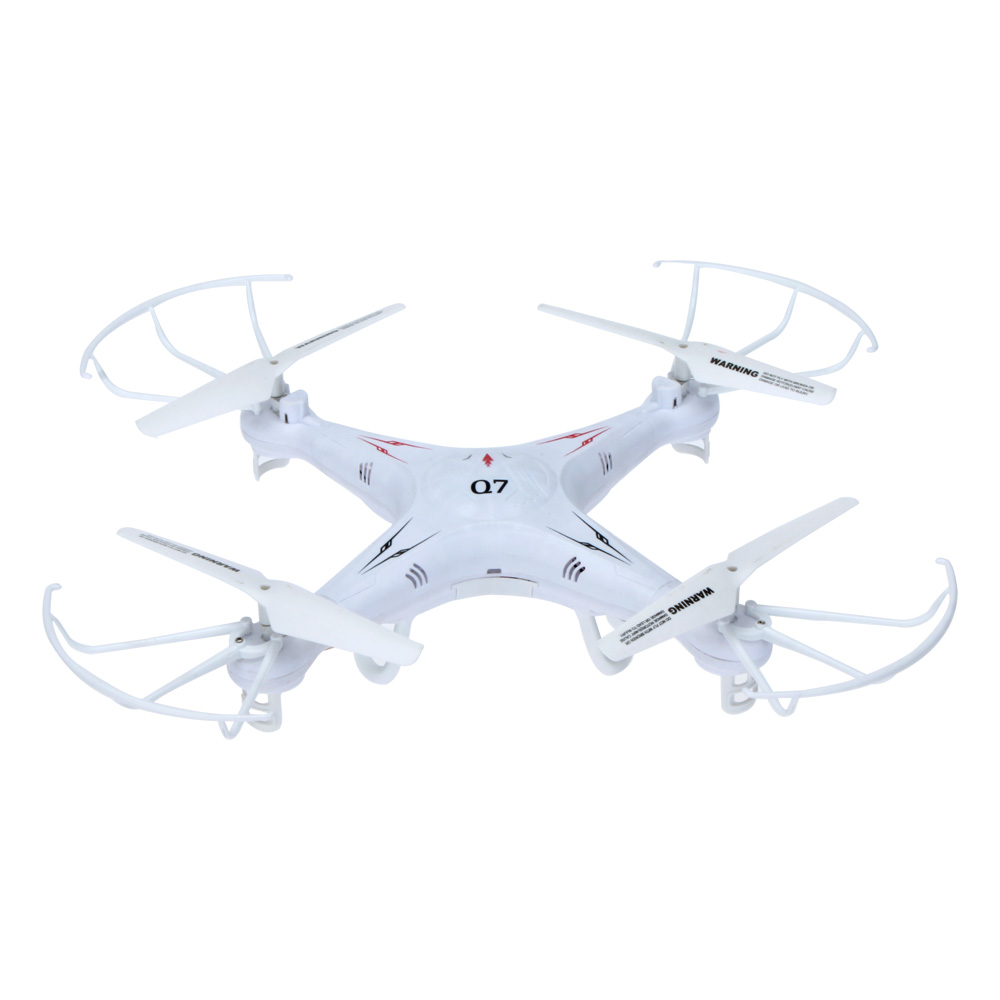 Our first drone on this list is the FY326, a very affordable toy quadcopter that was one of drone beginners' top choices back in 2016 and 2015. Why? Well, besides being extremely affordable and packing all you need to fly right out of the box. This low-cost drones is very easy to control, therefore ideal to learn and practice. If you are a beginner, or are looking for a first drone to gift someone, this might be the one. FY326 excels in control distance, this toy quadcopter has an amazing control range of 150 meters! Way above the average range of other drones within the same price range. FY326 Q7 makes use of a 3.7V 600mAh battery, which powers up to 10 minutes of flight time (better flight time than other drones within its price range). As mentioned previously, FY326 is a beginner's toy quadcopter, aimed to anyone looking to learning and practice how to fly a drone without having to spend much money. However, due to its low price and above average specifications, the manufacturers had to cut somewhere. FY326 doesn't come with a wide set of features, in fact the only feature that FY326 has is the 360º aerial stunt with just the push of a button. Overall, FY326 is the perfect beginner's drone, although it lacks some useful and fun features. One of the best drones you can buy at a very low price.
4- Pioneer JXD 509V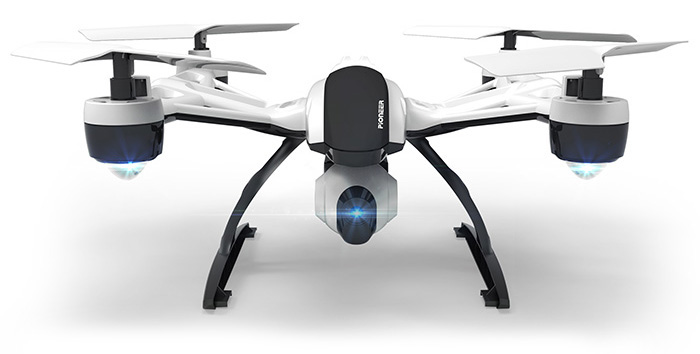 The second drone on our Top 5 Low-Cost Drones list is the amazing Pioneer JXD 509V. Contrary to the previous drone on the list, Pioneer JXD 509V packs some very useful and fun features. JXD 509V design resembles the high-cost Yuneec Q500, a very interesting design in my opinion. This being said, let's now talk about the camera. Although, JXD 509V is advertised has having a 2MP camera, it is in fact more of a VGA module camera. Still good quality, but of course do not expect fantastic high resolution footage. Camera can tilt 30º, allowing for the pilot to acquire different recording angles. JXD 509V, as previously mentioned, packs a wide set of fun features, such functions include: Headless Mode, Altitude Holder, One-Key Return and LED lights. Altitude Holder allows the drone to hover steadily by itself while the pilot focus on recording video or taking photos. On top of all these fun features, JXD 509V also has a decent control range of 80 meters and an amazing flight time of 10 minutes.
3- JJRC H26W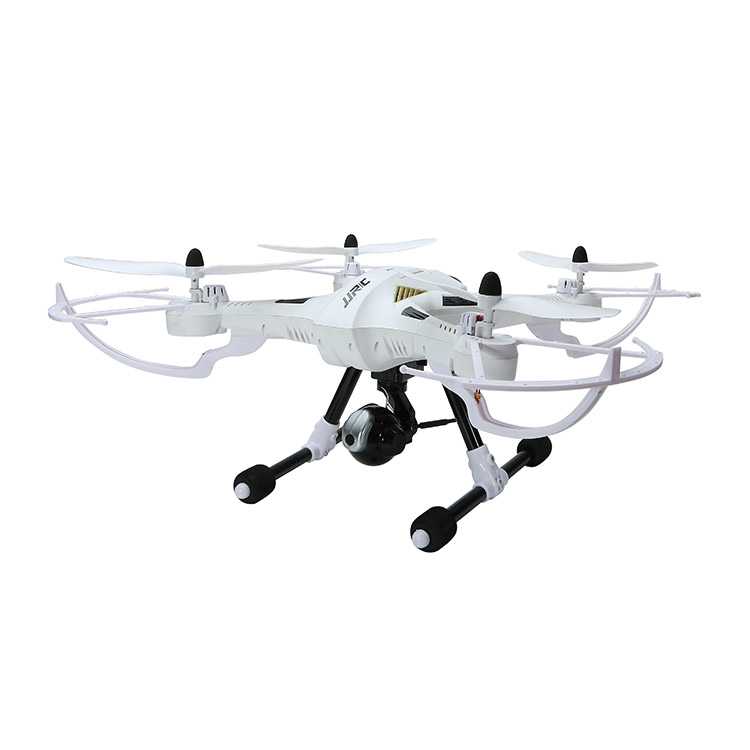 JJRC is one of the most active low-cost drone manufacturers, currently in the market. They are known for producing high-quality toy drones which always have above average specifications. JJRC likes to focus on a feature or aspect of a drone and enhance it. The JJRC H26W model focus on FPV Transmission. Before we discuss the real-time video transmission capabilities of this drone, let me first mention why JJRC H26W is such a great value or its money. First, it includes all you need to fly right out of the box. Secondly, it has an astonishing maximum control range of 300 meters (way beyond any same-price drone). Thirdly, it's incredibly easy to control, mainly due to its smooth and steady hover. Now to talk about the FPV Transmission. H26W comes from a line of JJRC models, the H26, that mainly focus on the camera aspect. H26W is the model aimed at live video transmission. H26W drone packs a 2MP camera capable of recording 720p resolution, shoots video and takes photos. Live Video transmission is done via WiFi directly to the pilot's smartphone. The pilot must install a free to download app (available for both Android and iOS) on their smartphone and connect via WiFi to the drone. The pilot will then be able to watch the live video directly on his or her mobile device. On top of all this JJRC H26W also features Headless Mode and One Key Return functions.
2- JJRC H26D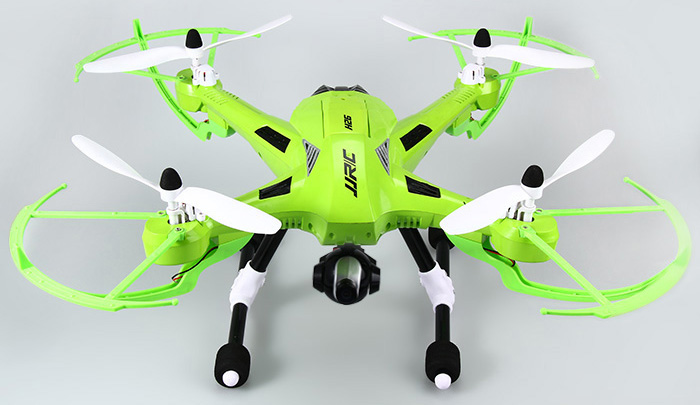 H26D is the drone aimed at good quality camera for a very affordable price. JJRC H26D is one of the best toy drones for anyone on a short budget looking for an easy to fly drone with great range and camera quality. H26D packs a 3MP camera, other drones within its price range only include 1MP to 2MP. But not H26D, this large toy quadcopter besides including a 3MP camera with a wide-angle lens! The camera is placed on a 2-Axis Adjustable Gimbal capable of tilting 30º (acquiring different recording angles). An above average toy camera, placed on a powerful and easy to control drone. As most products from JJRC, H26D has an astonishing maximum control range of 300 meters, enough for you to fly the drone way past eyesight. Powered by a 7.4V 1200Mah battery, this large drone has a flight time of 6 to 7 minutes. Besides this great specifications and good quality toy camera, H26D features Headless Mode, One Key Return and 360º aerial stunt with just the push of a button. Headless Mode will make the drone easier to control and One Key Return will make sure you don't lose your drone when reaching maximum range of 300 meters. Thanks to One Key Return, the drone safely flies back to you. JJRC H26D is an amazing and affordable toy drone, currently in the market you won't find another drone with a 3MP camera and 300 meters range at this price.
1- UPair One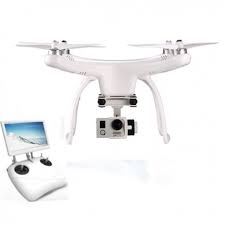 In 1st place of our Top 5 Low-Cost Drones list, is the most expensive drone on the list and is not a toy-grade drone. UPair One is a powerful and yet affordable alternative to a DJI Phantom high-budget model. UPair One packs some amazing features and specifications, an all you need to fly right out of the box drone, UPair One is your affordable alternative to a higher-budget drone. UPair One comes with a 12MP 4K camera manufactured by SONY itself. Expect good quality 4K footage at 24 frames per second. The drone is also capable of transmitting live video via 5.8 Ghz frequency directly to a FPV screen attached to the remote controller. Th Live Video is done in great quality. Other features of UPair One are the GPS Dual Compass, Failsafe Return to Home (drone returns to pilot automatically when battery runs low), GPS Position Hold, Altitude Hold, Intelligent Orientation Control (much like Headless Mode) and Return to Home. But wait, there's more! UPair One also has a very long range and amazing flight time. This drone can fly as far as 300 meters and staying in air for 22 minutes! Indeed, UPair One is a great value or your money, its less than twice the price of a DJI Phantom 3 and still much cheaper than a DJI Phantom 2.
 What did you think of our Top 5 Low-Cost Drones list? There are more great drones that could be on this list. Which drone would you add or remove? Let us know in the comment section below! Happy flying fellow drone lovers!
####
Stay tuned on the Personal Drones Blog for the latest quadcopter and multirotor news!