After the reports on swarm of bees attacking a quadcopter and the controversial relationships between dogs and quadcopters/multirotors, we now have a clear case of a group of birds partnering to attack and take down a DJI Phantom quadcopter.
This is documented in the video below, by youtube user Buddhanz1, that indeed ends with the crash of the Phantom after a strong hit by a bird from above:
This video contributes to increase our knowledge about the possible animal species – quadcopter/multirotors interactions and relationships. These interactions should be probably taken into consideration on planning drone delivery services such as Amazon Prime Air or the recently announced DHL quadcopter delivery services for urgent goods and medicines. Should researchers who are developing these aerial delivery services consider adding some devices to deter various animal species, including at least dogs and birds, from attacking or approaching the flying machine, in order to provide a secure and undisturbed delivery of the ordered goods? This might well be an important evolutionary step that the present generation of multirotors will have to face in order to be safe from animal attacks.
As a very basic first step, what about some camouflage like the following (just a joke here)?  Might make birds more friendly (hey, it's one of us..) or more aggressive (hey, a big bird we are not familiar with..). Testing and research required 🙂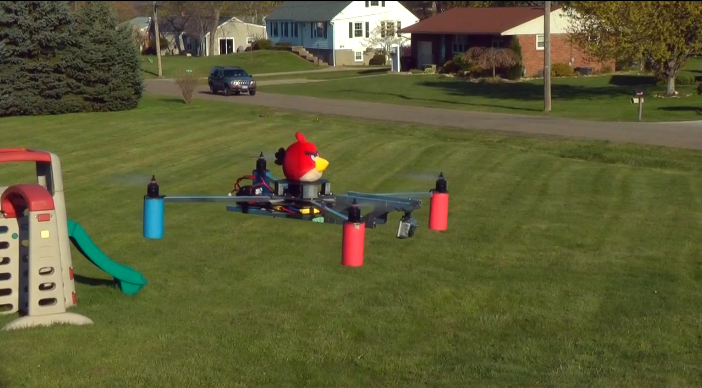 Here's another interesting example of bird attack on a quadcopter. In this case it looks like the bird had excellent motivations, as the quad was really flying very close and over the bird's nest. The attack of the bird in this case is just an example of excellent parental care and protection of the brood.
The pilot and maker of the video above recognizes that he was disturbing the birds and states he won't do this again, which looks like a great idea. Still interesting to see how birds likely perceive multirotors as other, possibly dangerous, big birds, and feel in competition for the control of their aerial space.