With the raise in availability of drone technology, Merseyside police in the UK thought it would be a good idea to acquire a drone, actually a 13.000£ quadcopter, to aid in law enforcement tasks.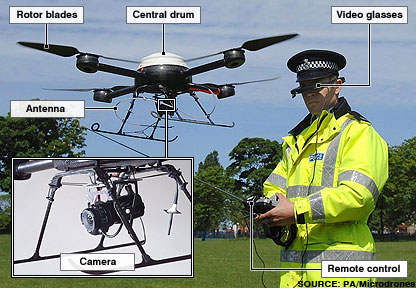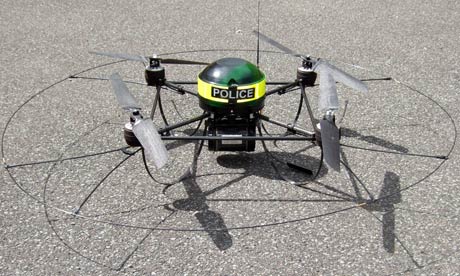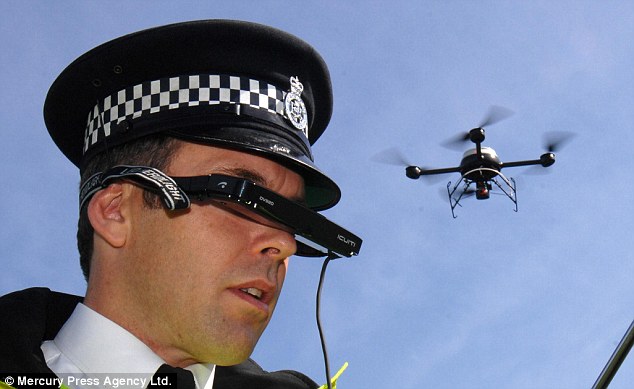 And here is the drone in operation live:
November 2009: Merseyside police acquires law enforcement quadcopter
The quadcopter is put to use, officers are trained.
February 2010: Merseyside police makes the first arrest in the UK based on drone technology, by helping in locating a car theft suspect – BBC article 
However about one week later, it turns out that the police did not have the required Civil Aviation Authority (CAA) permission to fly the quadcopter.
"CAA said it needed to be consulted over any use of the drones, that can fly up to 400ft and reach speeds of 30mph."
February 2010: Merseyside police drone is grounded for the lack of the required flight permissions by the CAA – BBC article
The police subsequently filled out the required paperwork and obtained all the permissions to fly the drone.
The drone resumes operations.
October 2011: Merseyside police drone crashes in river Mersey – see also here
During a flight training session the drone apparently looses battery power and crashes into a river. Officers responsible for the crash were "given advice" (a dressing down in police slang). The costs of the incident were covered by insurance. Interestingly
"during its use officers recognised certain technical and operational issues including staff training costs and the inability to use the UAV in all weather conditions.
"These issues in conjunction with the current financial climate resulted in the decision being made by chief officers not to replace the unit."
October 2011: Merseyside police drone ceases operations
This story is very interesting as it is an example of trying to put to work an idea that in principle seems potentially productive, and then coming in touch with all the hidden problems involved and the technical and, not least, budget limitations. I think the idea was good but the technology was still too young in 2009 to make drone law enforcement become a reality on a limited budget. I would guess that if the very same program was started today, it would probably have more chances of success as there was so much research and development done from 2009 to today in multirotors technological development, navigation systems, better and lighter frames with higher payloads, longer flight times, better resistance to variable weather conditions etc.. We can see this as an early, brave experiment that failed. We'll probably see other similar program succeed more and more in the future, as technology evolves and equipment prices drop steadily.