Breeze First-Person View Controller Enhances Flying Accuracy and Turns Smart Device into Display Screen
ONTARIO, Calif. (December 6, 2016) — Yuneec International, the world leader in electric aviation, today announced the availability of its all-new Breeze First-Person View Controller, creating a new means to pilot the ultimate flying camera. The Breeze FPV Controller is now available at a suggested retail price of $69.99.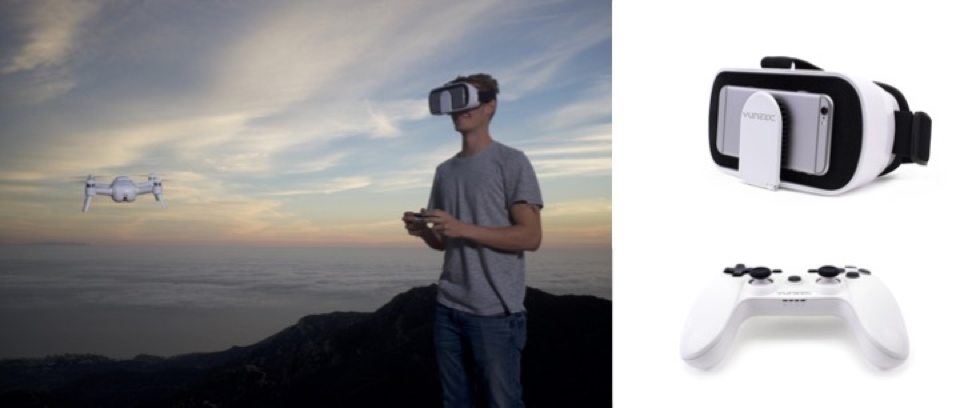 The Breeze FPV Controller provides pilots with an enhanced flying experience. The portable game controller connects to the users smart device via Bluetooth and enables users to accurately control Breeze with physical joysticks and buttons. It is compatible with the Breeze Cam mobile application on iOS (8.0 and above) and Android (4.4 and above) devices, giving pilots the ability to operate with joysticks, while the smart device is turned into the display screen held by the headset for a first-person perspective via the Breeze onboard 4K camera. The upgraded piloting set up creates an immersive and uninterrupted flight experience. The Breeze FPV Controller features two view modes: FPV Mode and Normal Mode. Pilots can view images through the FPV Goggles or from their smart devise placed on the controller.
"At Yuneec, our engineers are always pushing the envelope to develop creative solutions that deliver the best experience for the consumer," said Yu Tian, chief executive officer of Yuneec International. "The Breeze FPV controller enhances the flying experience for Yuneec pilots by literally putting them in the driver's seat of their drone. While operating the Breeze, they'll have more confidence, greater perspective and more creative possibilities at their disposal."
The Breeze is a flying camera designed to take ultra-high resolution aerial photos and videos of the consumer. Its compact size makes the Breeze easy to transport and allows it to easily fly both indoors and outdoors. The Breeze is intuitively controlled by a mobile device as well as the new Breeze FPV Controller. The "Breeze Cam" app includes five automated flight modes, which makes getting the perfect shot easier than ever before. Once users complete their flight, they can download the aerial photos and videos instantly through the Breeze Cam app to share across their favorite social media channels: Facebook, Twitter, YouTube, Instagram and WhatsApp.
Controller Specs:
Flying Distance: 100m
Battery: 600mA
Required OS: iOS and Android
Connection: Bluetooth
Breeze FPV Goggles:
Weight: 200g
Phone Support: 4.7-6 Inch
FOV: 110 degree
Pupil distance adjustment supported
General Specs:
New FPV Flight Mode
Fly in First Person View
Fly with Physical Controls
720p FPV image transmission
The Breeze FPV Controller is available for $69.99 at retailers and online at www.yuneec.com
About Yuneec International
Founded in 1999, Yuneec is a world leader in electric aviation. Rooted in a passion for innovation, Yuneec holds hundreds of patents worldwide. Its core technologies power manned aircraft as well as both consumer and commercial oriented drones. With offices in North America, Europe and Asia, Yuneec manufactures over one million units a year that accommodate a range of customers. From the Typhoon series for the enthusiast, to the Breeze series for the consumer and the Tornado series for commercial application, Yuneec continues to innovate, making aerial photography attainable at any level of flight experience. The company's achievements include the introduction of the industry's first "Ready to Fly" radio controlled electric powered airplane and the design and manufacture of market-leading radio controlled helicopters and consumer drones.